For all those DIY people out there, protect your car with this coating spray that is more efficient and saves you time with no professionals to do the install. To order similar items on Amazon: https://amzn.to/2I1NE4O

More information:
No need for a professional when you have this HydroSilex coating spray. It's extremely easy and simple to install and is perfect for any DIY. After the spray is applied, it cures into a hard-wearing transparent ceramic layer and it adds shine and prevents any contaminants, UV or minor scratches from getting in contact with the substrate. To get better shine and more protection, it's recommended to use the spray more frequently. No elbow grease required because all one needs to do is spray the bottle onto the surface of the car.  Once the coating touches the surface of the car, it automatically bonds and creates an even perfect finish…and it only takes 5 min to install! Nano particles in the HydroSilex is the key to preventing the deterioration of the already professional installed  coatings, clear bras and wraps.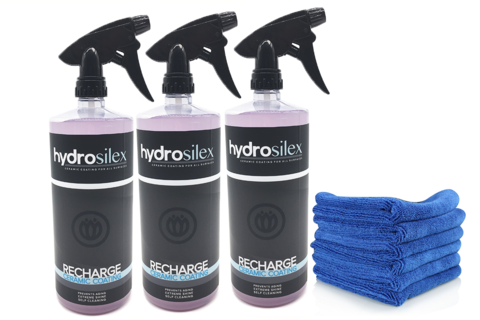 What we think about this invention:
Everyone likes to save money and time, especially when it comes to ones car. Driving a car can be expensive to maintain, and if one can do it themselves, it's definitely a selling point for sure. With this HydroSilex coating spray, all you need to do is spray and wash….that is it! Where most professional coating methods take time and elbow grease, the Hydrosilex spray takes only 5 minutes and with minimal effort. The spray is not like any other ceramic coating on the market as the spray is so easy because once the coating hits the surface of the car, it creates an even smooth surface.
To learn even more: https://hydrosilex.com/
If you want to check out more inventions in the Car category, click here: https://inventionaday.com/category/categories/cars/
What did you think about this invention? Please leave us comments below.
Comments
comments